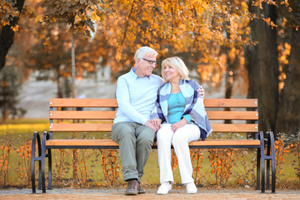 Helping Aging Parents Through Their Late-In-Life Journey
Although aging is a natural part of life, it often takes adult children by surprise to see changes in parents that signal additional care-giving is needed. If you haven't discussed your parents' wishes and plans for living out life, and for after their passing, you should know that it is never too late (or too early) to start the conversation. As with most of life, the more prepared you are, the easier it is to deal with difficulties or a crisis along the way.
What should you discuss with your aging parents? There are some important basics about which you should know details:
Do they have a will? A will makes clear who will receive your parents' assets and personal property. A properly written will helps avoid disagreements over the estate after their deaths.
Is there a trust? A revocable living trust allows your parents to retain control over their estate and to use assets as they desire during lifetime. They designate what property goes into the trust and to whom it will be given (home, investments, other assets, and also list their tangible personal property). During their lifetimes, your parents are executors of their own living trust. A trust has an important advantage: it allows their estate to avoid probate at the time of their deaths.
Do they have Durable Powers of Attorney for Health Care and HIPAA Releases? A durable power of attorney for healthcare allows a designated person to make healthcare decisions for your parent if he/she becomes incapacitated. A HIPAA release gives the designee access to health records and physicians.
Do they have Durable Powers of Attorney for Finances? A durable power of attorney for finances allows the named fiduciary to manage financial affairs, pay bills, sell property, and so on.
Have they executed a Living Will? A living will (also known as an advanced health care directive) sets out what kind of care your parents want to receive if they become ill or incapacitated.
Knowing whether your parents have these documents, and who has been designated as decision makers or the fiduciary, will ensure that you can assist them if a medical or financial emergency arises. If any of these important documents is not in order, it should be addressed immediately.
After learning about your parents' plans and where to find important information, you should have a good foundation for their ongoing care and final wishes. Beyond the basics, you can learn what is important to your parents by listening carefully and asking the follow-up questions that seem to fit the situation. By properly planning and having these important discussions, your parents' late-in-life journeys will be far less stressful for everyone in the family.
If your family needs help planning for this journey, please contact Kling Law Offices for a free consultation. We can help you start the conversations, create and organize important documents, and plan so you and your parents will have the peace of mind you deserve.
https://klinglawoffices.com/wp-content/uploads/2018/10/Helping-aging-parents-2.jpg
200
300
Michael Kling
https://klinglawoffices.com/wp-content/uploads/2022/11/kling-law-offices-logo.png
Michael Kling
2018-01-11 11:03:45
2020-02-27 11:44:07
Helping Aging Parents Through Their Late-In-Life Journey